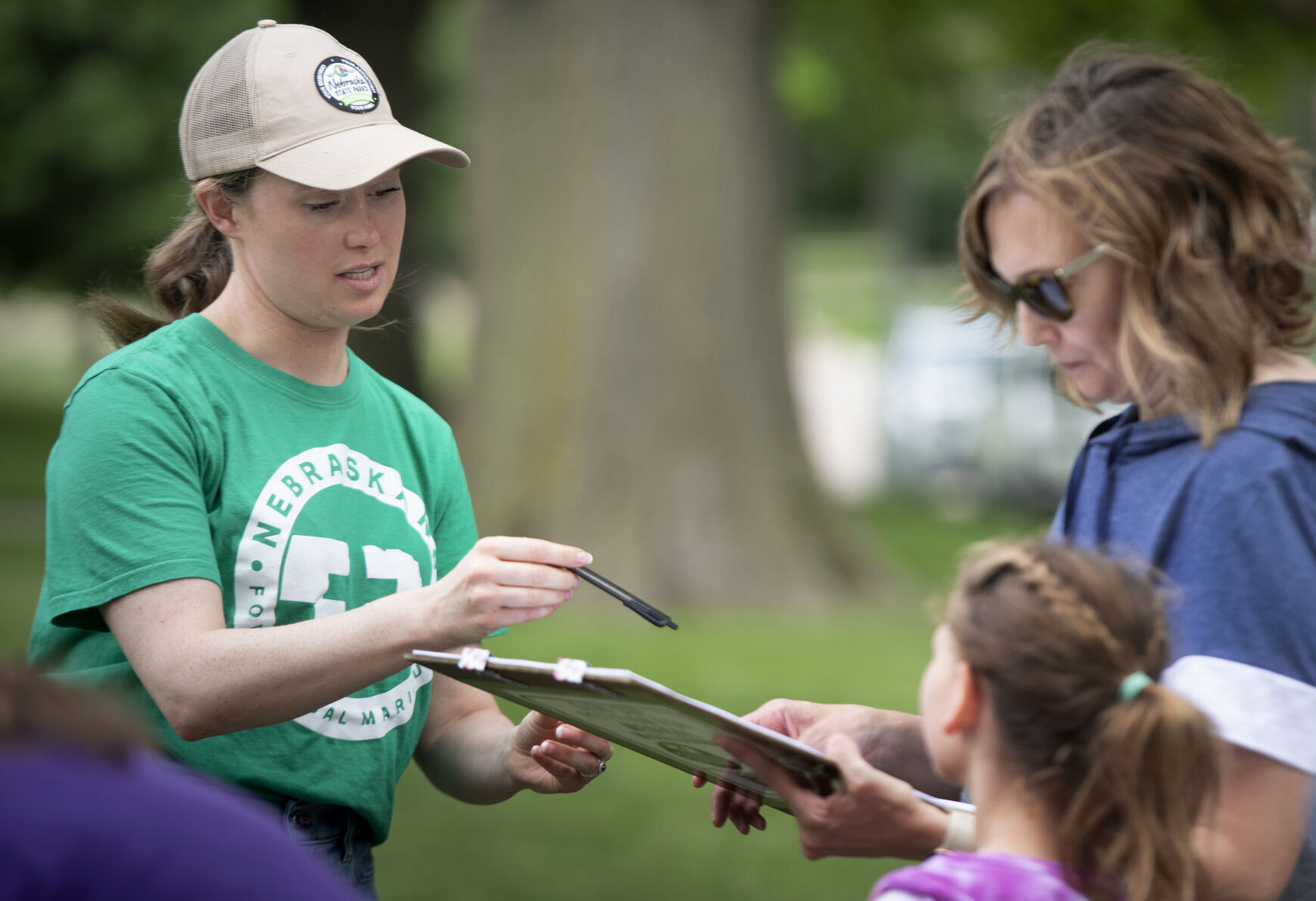 Efforts to legalize medical marijuana in Nebraska, either in the Legislature or at the ballot box, have fallen short over much of the last decade.
Sen. Anna Wishart, who has championed the issue during her time as a state lawmaker representing west Lincoln and parts of Lancaster County, and parents of children with uncontrollable epilepsy or other neurological disorders, or patients who suffer chronic pain or illness remain undeterred, however.
On Thursday, Wishart told the Legislature's Judiciary Committee she was ready to try again, this time with a bill (LB588) that largely revives language narrowly defeated two years ago allowing for the cultivation, processing and use of cannabis for medical purposes.
"I've spent the past six years going across the state, meeting with people from all different counties," Wishart said. "You would be hard-pressed to find someone who wouldn't benefit from medical cannabis or know someone who wouldn't benefit from medical cannabis."
The bill, which would enact one of the most restrictive medical cannabis laws in the country, was the result of agreements between doctors, pharmacists and state senators who have voiced concerns about previous bills they found too broad, Wishart said.
It outlines a narrow list of qualifying medical conditions — something that brought the Nebraska Medical Association on board in a neutral capacity after the group opposed the bill two years ago — while also detailing the steps physicians must perform before they can recommend cannabis to their patients.
Patients who are recommended cannabis can possess up to 2.5 ounces or 2,000 milligrams of tetrahydracannabinol — the psychoactive compound in marijuana better known as THC — purchased from state-licensed dispensaries.
Those same dispensaries must contract with licensed pharmacists trained in medical cannabis, and patients must enroll in the state's prescription drug monitoring program.
LB588 also prohibits patients from smoking or vaping cannabis, makes it illegal for patients to cultivate their own marijuana plants, and restricts patients from operating a motor vehicle while under the influence of cannabis and from using cannabis as a passenger in a vehicle.
Parents, doctors, pharmacists and others testified in support of Wishart's bill Thursday, saying they supported the very conservative effort to legalize medical marijuana that involved medical professionals in the process.
An estimated 19,600 Nebraskans are currently living with epilepsy and seizure disorder, according to the Epilepsy Foundation of Nebraska, while the disorder is the fourth-most- common neurological disorder in the U.S.
Nicole Hochstein's 13-year-old son Jayen has endured a series of brain surgeries to stem the seizures he suffers as part of the severe epilepsy he was diagnosed with as a 4-year-old, she told the committee.
Now the Papillion family is left considering whether or not to leave the state and relocate in a place where Jayen could access medical cannabis as a last resort to improve his quality of life.
"Had he been born in any other state, he would have access to a life-saving medicine," Hochstein said. "Leaving the state would mean we would not come back, not even for a visit. We could never step foot in Nebraska again."
So far in the U.S., 37 states have legalized medical marijuana, while 21 have approved it for non-medical use, according to the National Conference of State Legislatures. In Nebraska, possession of a small amount of marijuana has been decriminalized — though it will still earn you a citation and fine — but larger possession and sale of marijuana for any purpose is still a criminal violation.
Dominic Gillen, whose son Will, 20, has suffered from severe epilepsy his entire life, told the committee he believes access to cannabis could help control his son's violent seizures that have resulted in a lacerated liver, broken jaw, concussions and other injuries.
"My family has been fighting for this for 10 years," Gillen said. "The fact that we continue to allow suffering of those most vulnerable in our state is wrong. We need our lawmakers, who are supposed to represent us, to act now."
Wishart's bill was once again opposed by law enforcement groups and state medical officers, who said they worried that opening the door to one form of cannabis would result in a proliferation of marijuana-related products in Nebraska.
Attorney General Mike Hilgers, who opposed previous efforts as a state senator, questioned whether LB588 was constitutional since under federal law, marijuana remains a Schedule 1 drug.
"The constitution says when the federal and state laws are in conflict, state laws are voided," Hilgers said, adding he believed the federal government was ignoring its responsibility to enforce the law in other states that have passed medical or recreational cannabis laws.
Hilgers also said the Legislature had never taken action to give its approval to a medicine or drug, and said that responsibility was best left to medical experts.
Nebraska Chief Medical Officer Roger Donovick, a board-certified psychiatrist, said further research was needed on the medical outcomes of cannabis before doctors should be allowed to recommend its use to their patients.
"If the aim is to protect the health and safety of Nebraska patients, more research is needed to understand its uses," Donovick said.
The Judiciary Committee did not take any action on the bill Thursday, Day 25 of the 90-day legislative session.
At a news conference following the hearing, Wishart said she was optimistic the bill would advance from committee to the floor for debate by the full Legislature, which includes 17 new senators.
This version of the bill — Wishart said it was the "best iteration that has a chance to pass" — addresses the concerns raised by opponents in each of the last several years she has sponsored similar legislation, she said.
But Wishart, who will be term-limited at the end of 2024, and supporters of Nebraskans for Medical Marijuana say they are also keeping the door open for another petition drive that would put a broader medical cannabis measure before Nebraska voters next year.
Gillen said senators should remember how many voters signed the 2020 and 2022 petitions when they consider LB588. As many as 400,000 voters from all 93 counties have signed a trio of petitions that have been circulated recently.
"That ought to mean something to you," he said.
The Omaha World-Herald contributed to this report.

Needed: 50,000 more signatures for medical marijuana petitions, supporters say

Minimum wage petition says it has signatures needed to appear on November ballot

Medical marijuana petitions need 35,000 signatures with less than a week until deadline

Medical marijuana petitions submitted amid legal uncertainty of requirements in Nebraska

AGs from 15 states file brief to uphold Nebraska's signature-gathering rule

Medical marijuana initiative petitions fail to make November ballot

Nebraska lawmaker vows to introduce medical marijuana legalization bill in 2023